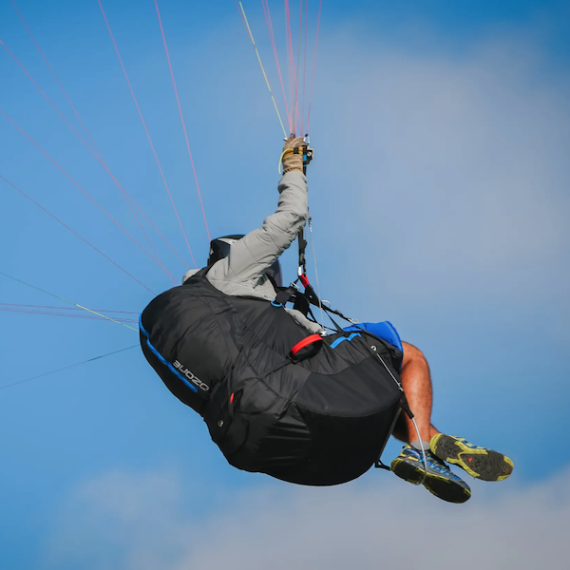 Väl beprövad smidig och bekväm sele med skummskydd. Lätt att komma i och ur och därför använder vi den i vår skolning. Alla Ozones skärmar testas med denna typ av sele. Finns endast i svart/blå.
Banköverföring eller Betalning vid leverans
Beskrivning
PRODUCT INFO
Redesigned for 2019!
The O2+ is the latest version of our entry-level harness for new pilots. The 2019 revision of this harness includes the following upgrades:
New radio pocket
New colour-coded straps for safety and ease of use
New adjustment buckles with smoother action
New chest strap protector for groundhandling comfort
Improved reserve compartment
Sewn-in reserve bridles
The O2+ is a sleek and clutter-free lightweight harness that is easy to use, with a focus on sensitivity, comfort, and ease of use. The simple layout of the harness belies the technology and innovation within:
Sliding seat board allows for an easy transition from standing to seated positions, making the most important parts of the flight (take off and landing) easier, safer and less stressful.
The O2+ transmits glider movement to the pilot as coordinated feedback, and can be adjusted to your taste by adjusting the semi-crossbraced chest strap.
In the turn, the O2+ is well balanced with progressive weight-shift that enables you to place the glider's bank and keep it exactly where you want it in the turn.
Experienced pilots will love the coordinated feel of the O2+ in active air – locking into the core of a thermal has never been easier.
Suited equally well for Soaring, Acro and XC flights.
Fits in the standard OZONE Bag with any wing.
FEATURES
Sliding seat board
Long Y bridle attachment point is included*
'Safe T' system
Integral reserve container (for left or right handed pilots)
17cm Mousse
Side pockets
*Please note that if choosing an OZONE Angel reserve parachute to accompany your Oxygen2+ harness, you will want to order the Angel with a "Short Single" bridle. You will also need to purchase an 8mm Square Maillon Rapide to connect the reserve to the harness bridles.
SPECIFICATIONS
| S | M | L |
| --- | --- | --- |
| up to 175 cm | 170-185 cm | 180 cm + |
* Weights may vary up to 50gm per size due to slight variations in the manufacturing of the fabric used.
EN Certified to 120Kg
Harness + Back Bumper, Seat plate, Carabiners, Reserve Handle: 4.6kg
MAXIMUM LOAD 120kg
MATERIALS
Bag – Ripstop Nylon / Oxford 210Denier, PU Double Coating 0.8MM
Harness – Ripstop Nylon
Buckles – AustriaAlpin quick release, Austrialpin buckkle 25mm
Webbing – Gurth and Wolf 20mm Polyamide, breaking strength 1700 kg.